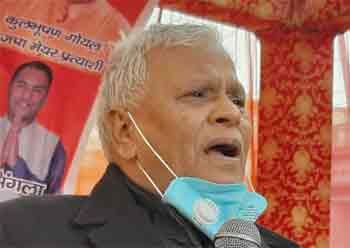 INVC NEWS
Haryana,
Union Minister of State for Social Justice and Empowerment Ratan Lal Kataria said that a transgender person will be empowered by the Central Government to choose their gender identity themself. For this, such individuals can apply online to the District Magistrate to get their identity certificate through the transgender portal.
Mr. Kataria said that in this regard, Union Social Justice and Empowerment Minister, Mr. Thaawar Chand Gehlot held a meeting on the subject of transgender coordination with concerned officers and representatives of states and union territories. He said that the transgender community is one of the marginalized sections of the society and they have to face all kinds of social, economic and political discrimination at all levels. Efforts will have to be made to provide fair representation to such individuals in the society and for their integrated development, he added.
Mr. Kataria said that the transgender community is often deprived of the right to education, right to ancestral property, right to health and public services etc. Prejudice in employment, job discrimination, wage disparities, lack of legal resources are also the major problems faced by the transgender community today, he added. He said that in order to bring them into mainstream society, Parliament passed the Transgender Persons, Protection of Rights Act, 2019, which came into force from January 10, 2020. In addition, the Transgender Persons, Protection of Rights Rules were notified on September 25, 2020.
The Union Minister said that it contains provisions for issuing identity certificates to the people of this community, necessary steps to eliminate discrimination in education, social security, employment, health care, public transport, public life, and sports, etc. Apart from this, there is also a provision for the formation of a National Transgender Persons Council for the transgender community, he added.