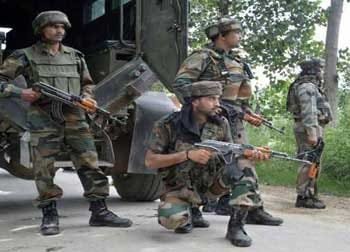 Security forces have surrounded the terrorists
An encounter broke out between security forces and terrorists in Anantnag district of Kashmir division on Tuesday. It is being told that the security forces have surrounded the terrorists. Police and security force personnel are promptly deployed on the spot. The soldiers have killed two terrorists. Earlier on Monday, terrorists attacked the SOG camp in Imamsahib area of ​​Anantnag.
Late night the terrorists opened fire targeting the SOG camp. After the retaliation by the soldiers, the terrorists fled from the spot taking advantage of the darkness. Immediately after the incident, a search operation was launched by cordoning off the entire area.
No one was hurt in this attack. Police said that on information about the presence of terrorists, police, army and CRPF launched a search operation in Baskuchan area of ​​Shopian district. During this, seeing the cordon getting tough, the hiding terrorists started firing.
While exercising restraint, the soldiers repeatedly asked the terrorists to surrender. Even after this, he did not listen and kept firing continuously. The encounter started with retaliation.