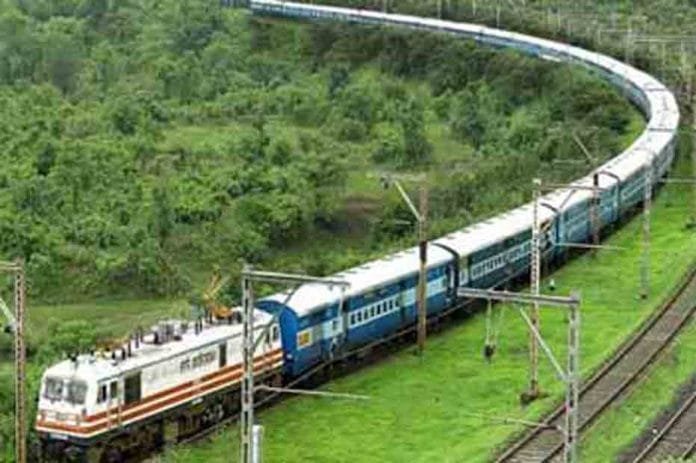 INVC NEWS
New Delhi : Welcome to the world of Indian Railways, the lifeline of our incredible country. Train travel has always held a special place in the hearts of millions of Indians, offering convenience, affordability, and a unique way to explore the diverse landscapes of our nation. In this exciting railway update, we bring you news about the upcoming Bharat Gaurav tourist train by the Indian Railway Catering and Tourism Corporation (IRCTC). This train promises to take you on a captivating journey through the enchanting beauty of South India, with a delightful surprise for passengers – food without onion and garlic. So, let's delve into the details and explore the enticing features of this extraordinary travel experience.
Discover South India:
The Bharat Gaurav tourist train is set to embark on a mesmerizing expedition from Yog Nagri Rishikesh station at 12:05 pm on July 10th, offering an unforgettable 10-day journey. This remarkable adventure will take you to some of the most revered and awe-inspiring destinations in South India, including the renowned Mallikarjuna Jyotirlinga, the sacred Tirupati Balaji temple, the mystical Rameshwaram, the enchanting Meenakshi Temple in Madurai, and the captivating coastal beauty of Kanyakumari.
Embarkation Points and Timings:
The train's route has been meticulously planned to ensure a seamless and enriching experience for passengers. Departing from Yog Nagri Rishikesh station, the Bharat Gaurav tourist train will traverse through a scenic route, passing through Haridwar, Moradabad, Bareilly, Shahjahanpur, Hardoi, Lucknow, Rae Bareli, and Pratapgarh, before reaching the historic city of Prayagraj. The train is scheduled to arrive at Prayagraj Junction between 1:51-2:01 pm, allowing passengers to commence their South India expedition from this vibrant city.
Comfort and Accommodation:
To ensure utmost comfort during the journey, the Bharat Gaurav tourist train offers three types of coaches: Sleeper class, AC 3, and AC 2. Passengers can choose their preferred class based on their budget and requirements. The sleeper class, with a fare of Rs 20,870, provides a cozy and economical option for travelers. For those seeking enhanced amenities and a touch of luxury, the AC 3 and AC 2 coaches, priced at Rs 33,628 and Rs 46,557 respectively, offer a delightful experience.
Food without Onion and Garlic:
Understanding the diverse dietary preferences of passengers, IRCTC has taken a thoughtful step by providing food without onion and garlic on the Bharat Gaurav tourist train. Passengers who require this special dietary arrangement are advised to inform the authorities before the commencement of their journey. This considerate gesture ensures that every traveler's culinary needs are met, making the train journey a truly delightful experience for all.
Easy Ticketing Options:
To make the booking process convenient and accessible for passengers, the Bharat Gaurav tourist train tickets can be purchased on an EMI (Equated Monthly Installment) basis. With an EMI option of Rs 1,022 per month, travelers can plan their journey without any financial burden. The EMI facility is available through the IRCTC portal, as well as various government and non-government banks. This flexibility in ticketing options enhances the accessibility and affordability of the travel experience.
Inclusions and Facilities:
The fare for the Bharat Gaurav tourist train includes an array of offerings to make your journey truly exceptional. Passengers can indulge in sumptuous breakfast, lunch, and dinner, featuring delectable vegetarian meals. Comfortable accommodation in non-AC hotels ensures a peaceful rest after eventful days of exploration. Additionally, convenient local transport arrangements are made to facilitate hassle-free sightseeing. For passengers traveling in AC 2 coaches, exclusive provisions have been made, including AC rooms and AC transport, adding an extra layer of luxury to their journey.
Booking and Further Information:
Booking tickets for the Bharat Gaurav tourist train can be conveniently done through the official IRCTC website. Additionally, the IRCTC office located at platform number one of Prayagraj Junction provides an accessible offline booking facility. To stay updated with the latest information and announcements regarding the train's schedule, amenities, and other relevant details, passengers are encouraged to visit the official IRCTC website or contact the IRCTC office.
Conclusion:
The Bharat Gaurav tourist train offers an incredible opportunity to embark on a captivating journey through the cultural and natural splendors of South India. With its thoughtfully planned itinerary, comfortable coaches, and special culinary arrangements, this train promises a remarkable travel experience for passengers of all ages. Whether you seek spiritual solace, architectural marvels, or breathtaking landscapes, this journey will leave you spellbound. So, get ready to embark on an extraordinary expedition, creating memories that will last a lifetime.