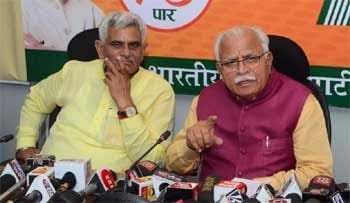 INVC NEWS
Chandigarh,
As many as 212 new schemes costing Rs. 201 crore were approved in the 51st meeting of Haryana State Drought Relief and Flood Control Board held under the Chairmanship of Chief Minister Mr. Manohar Lal, here today. Most of the schemes are of protection of Abadi, protection of agriculture land, procurement of flood machinery, repair or reconstruction of bridges or structures, etc.
The Chief Minister directed all the Deputy Commissioners in the State and Superintendent Engineers (SEs) of Irrigation Department to ensure speedy implementation of these schemes with the target to complete all short- term schemes by June 30, 2020.
He further directed the officers that stress should be given to utilize the accumulated water for irrigation without wasting it in the drains. Apart from this, he also stressed to conserve maximum rainwater during monsoon.
The Chief Minister said that as floods could result in huge loss to life and property, prior arrangements should be made to avert any untoward situation. He said that with this aim, the Haryana State Drought Relief and Flood Control Board is being held in the month of January, from past two years so that all flood-related works should be completed well before time.
He also directed the Deputy Commissioners to do a physical inspection of all the sites before starting any project. He also directed the Deputy Commissioners to identify 4-5 overflowing and dry ponds in their respective districts, which are required to be rejuvenated on a priority basis.
He further directed the officers concerned to review the works being done under the Shivdham Navinikaran Yojana. He said that the officers should ensure that construction of boundary wall and pavement of path upto all cremation grounds and graveyards which are being done under this scheme are not pending.
The Additional Chief Secretary, Irrigation and Water Resources Department, Mr. Devender Singh briefed that the last year flood situation was normal although River Yamuna experienced an all-time high flood this year, but there was no loss of life or property. He also informed that all the flood protection schemes proposed were reviewed and recommended by the Haryana State Advisory Committee in the forenoon session.
Chief Secretary, Haryana, Mrs. Keshni Anand Arora, Additional Chief Secretary and Financial Commissioner, Revenue and Disaster Management and Consolidation Department, Mr. Dhanpat Singh, Additional Chief Secretary, Forests and Wildlife Department, Mr. Alok Nigam, Additional Chief Secretary, Power Department, Mr. T.C Gupta, Additional Chief Secretary, Finance, Mr. T.V.S.N Prasad, Principal Secretary to Government, Haryana, Mines and Geology Department, Mr. Anand Mohan Sharan, and other senior officers were present. While the Divisional Commissioners and Deputy Commissioners of all districts also attended the meeting through Video Conference.