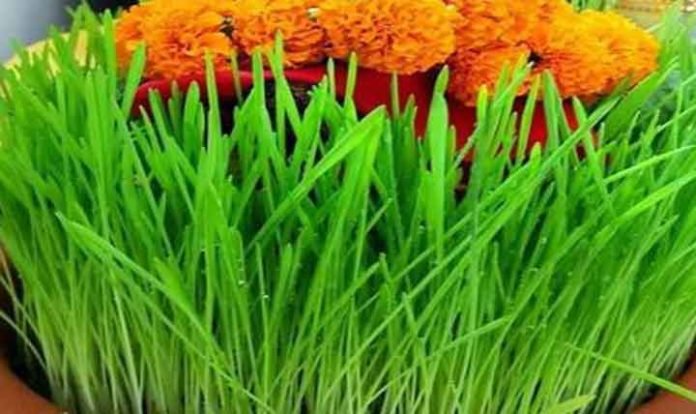 Every year Chaitra Shukla (chaitra navratri 2023) Navratri festival is celebrated from Pratipada to Navami Tithi. This is called Badi Navratri. During this many traditions are also followed.
Jaware is sown on the first day of Navratri, which is flown into the river or any other water source after the end of Navratri i.e. on Chaitra Shukla Dashami Tithi (Jawara Visarjan 2023). This time this date is on 31st March, Friday. Know further the method of Jaware immersion, auspicious time and other special things.
This is the auspicious time for Jaware Visarjan 
According to the Panchang, Dashami Tithi of Shukla Paksha of Chaitra month will start from 11.30 on Thursday night of March 30 and will continue till March 31, Friday night at 01.58. Jaware will be immersed on March 31 itself. On this day, Pushya Nakshatra will be present throughout the day. All the auspicious works done in this constellation get manifold results. Know the auspicious time of Jaware immersion.
– Abhijeet Muhurta – 12:06 PM – 12:55 PM
– Amrit Kaal – 06:46 PM – 08:33 PM
Do Jaware Visarjan (Jawara Visarjan Ki Vidhi) with this method
– On March 31, Friday morning, first take bath etc. and then worship the Mother Goddess. Offer incense, rice, flowers, etc. to the goddess and chant these mantras-
Roopam dehi yasho dehi bhagyam bhagwati dehi me.
Son's body, wealth in the body, all the work in the body.
Mahishaghni Mahamaye Chamunde Mundamalini.
Ayurarogya maishwarya dehi devi namostu te.
After reciting this mantra, worship the jawars as well. Offer things like rice, flowers, kumkum etc. and take these grains to the river, pond or any other water source with respect. Take rice and flowers in hand and immerse the jawars with this mantra-
Gach Gach Surshresthe Swasthanam Parmeshwari.
Poojaradhankaale f Punaragamnaya f.
– After immersing the Jaware, pray to the mother for the happiness and prosperity of the house and return home happily.
Why is sorghum sown during Navratri?
The tradition of sowing barley or sorghum during Navratri is very ancient. No one knows how this tradition started, but there is a deep psychology behind it. According to him, barley was the first crop in the beginning of creation. We offer this crop to Mother Goddess and let it flow in the river after Navratri is over. In Ayurveda too, the special importance of sorghum has been mentioned. Sorghum is considered a medicine in Ayurveda.