INVC NEWS
New Delhi ,
Amendment to Act & Rules
The Mines and Minerals (Development and Regulation) Act, 1957 (MMDR Act) has been amended through the Mines and Minerals (Development and Regulation) Amendment Act, 2021, which has been notified on 28.03.2021, for giving boost to mineral production, improving ease of doing business in the country and increasing contribution of mineral production to Gross Domestic Product (GDP). Some of the major reforms brought in the Amendment Act, 2021 are as under:
Removed the distinction between captive and merchant mines. It allows all captive mines to sell up to 50% of the minerals produced during the year after meeting the requirement of attached plant subject to the payment of additional amount as prescribed under sixth schedule of the MMDR Act. Further, all future auctions will be without any end use restrictions.
Resolved all pending cases under section 10A (2) (b) of the Act.
Statutory clearances to be valid even after expiry or termination of mining lease and shall be transferred to the successful bidder in the auction.
To ensure ease of doing business,restriction on transfer of mineral concessions are removed and now mineral concession can be transferred without any transfer charge.
Additional amount hasto bepaid by government companies on grant of new lease or extension of lease which will ensure additional revenue to State Government.
Central Government is empowered to conduct auction in cases where the States face challenges in conduct of auction or fail to conduct auction within prescribed time fixed in consultation with State Government. The revenue from auctions will accrue to State Government.
Empowered the Central Government to issue directions regarding composition and utilization of funds under District Mineral Foundation (DMF). Direction to include the MPs, MLAs and MLCs in the Governing Council was issued in April, 2021.
Simplification of exploration regime – (I) National Mineral Exploration Trust (NMET) shall be an autonomous body; (ii) Private entities may be notified under Section 4(1) of the MMDR Act for conducting exploration; (iii) Enable funding of eligible private exploration agencies from NMET; (iv) Provision for seamless PL-cum-ML (composite licence).
In order to implement the amendments made in the MMDR Amendment Act, 2021 Ministry of Mines has notified the following Rules:
The Minerals (Evidence of Mineral Contents) Rules, 2015 amended through the Minerals (Evidence of Mineral Contents) Amendment Rules, 2021 for simplifying the exploration norms prescribed in the rules for certain category of mineral deposits and benchmarking the MEMC Rules with globally accepted classification standards.
Relaxation of Exploration Norms-
ML for limestone, iron ore and bauxite having surficial deposit can be granted at G3 level of exploration.
Reassessment of resources in respect of expired, terminated, surrendered or lapsed mines on the basis of available reports of exploration before auction.
Auction of composite licence (PL-Cum-ML) at G4 level for all minerals.
Definition of various stages of exploration, etc., exploration norms for different types of deposits and reporting template.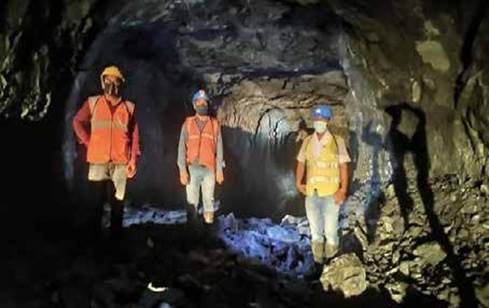 Mineral (Auction) Rules, 2015 amended through Mineral (Auction) Third Amendment Rules, 2021. The highlights of amendments in the Rules are as follows:
Definition of Value of Estimated Resources (VER) clarified to enable its calculation in case average sale price of any mineral is not published for any month.
To facilitate auction of CL for minerals (other than placer deposits) whose VER cannot be assessed, but have mining potentiality.
To provide for sale of 50% of mineral from auctioned captive mines.
Cap on Net Worth requirement for ML – Rs. 200 Cr. and for CL – Rs. 100 Cr.
Upfront payment – instalments changed from existing 10%, 10% and 80% to 20%, 20% and 60%.
Time-lines added for ML for submission of 1st instalment of upfront payment and for issue of LoI by the State Government.
Time-lines added for CL for submission of Performance Security – 15 days (extendable by further 15 days), for issue of LoI by the State Government – 15 days and execution of PL deed of CL – 1 year (extendable by further 6 months) from issue of LoI.

The MCR, 2016 has been amended through Minerals (Other than Atomic and Hydro Carbons Energy Mineral) Concession (Fourth Amendment) Rules, 2021 on 2nd November, 2021. The highlights of amendments in the Rules are as follows:
New rules inserted to provide manner of sale of 50% of mineral produced from the captive leases. With this amendment, the Government has paved the way for releasing of additional minerals in the market by greater utilization of mining capacities of captive mines. The allowance for sale of prescribed quantity of mineral shall also motivate the lessees to enhance the production from the captive mines. Further, payment of additional premium amount, royalty and other statutory payments in respect of the quantity sold shall boost the revenue of the State Governments.
Provision added to allow disposal of overburden/ waste rock/ mineral below the threshold value, which is generated during the course of mining or beneficiation of the mineral. This will enable ease of doing business for the miners.
Minimum area for grant of mining lease has been revised from 5 ha. to 4 ha. For certain specific deposits, minimum 2 ha. is provided.
Part surrender of mining lease area allowed in all cases. Presently, part surrender was allowed only in case of non-grant of forest clearance.
Rules amended to allow transfer of composite licence or mining lease of all types of mine.
New rules inserted to provide for mutation of ML/ CL in favour legal heirs on death of the lessee or licence.
Interest on delayed payments revised from existing 24% to 12%.
Rules regarding period of mining lease granted to Government companies and their payments incorporated in the MCR, 2016.
Penalty provisions in the rules have been rationalized. Previously, the rules provided for penalty of imprisonment up to 2 years or fine up to 5 lakh rupees or both for violation of each and every rule irrespective of the severity of the violation. Amendment in the rules categorized the violations of the rules under the following major heads: (a) Major Violations: Penalty of imprisonment, fine or both. (b) Minor Violations: Penalty reduced. Penalty of only fine for such violations prescribed. (c) Violation of other rules has been decriminalized. These rules did not cast any significant obligation on the concession holder or any other person. Thus, violation of 49 rules has been decriminalized.
Ministry of Mines has notified the Mineral Conservation and Development (Amendment) Rules, 2021 on 3rd November, 2021 to amend the Mineral Conservation and Development Rules, 2017 [MCDR] to provide rules regarding conservation of minerals, systematic and scientific mining, development of the mineral in the country and for the protection of environment. The highlights of amendments in the Rules are as follows:
(I) Rules prescribed that that all plans and sections related to mine shall be prepared by combination of Digital Global Positioning System (DGPS) or Total Station or by drone survey in relation to certain or all leases as may be specified by Indian Bureau of Mines (IBM).
(ii) New Rule inserted to provide for submission of digital images of mining area by lessees and Letter of Intent holders. Lessees having annual excavation plan of 1 million tonne or more or having leased area of 50 hectare or more are required to submit drone survey images of leased area and up to 100 metres outside the lease boundary every year. Other lessees to submit high resolution satellite images. This step will not only improve mine planning practices, security and safety in the mines but also ensure better supervision of mining operations.
(iii) Requirement of submitting satellite images obtained from CARTOSAT-2 satellite LISS-IV sensor on the scale of cadastral map deleted in view of the insertion of provision for submission of high resolution Georeferenced Ortho-rectified Multispectral satellite and use of drone survey as per Rule 34A.
(iv) Provision of daily return omitted to reduce compliance burden. Power of taking action against incomplete or wrong or false information in monthly or annual returns given to IBM, in addition to State Govt.
(v) Allowed engagement of a part-time mining engineer or a part-time geologist for category 'A' mines having leased area below 25 hectares. This will ease compliance burden for small miners.
(vi) In order to increase employment opportunity, diploma in mining and mine surveying granted by duly recognised institute along with a second class certificate of competency issued by the Director General of Mines Safety is added in qualification for full time Mining Engineer. Also, qualification for part time Mining Engineer added.
(vii) Provision of forfeiture of financial assurance or performance security of the lease holder added in case of non-submission of final mine closure plan within the period specified.
(viii) Amount of financial assurance increased to five lakh rupees for Category 'A' mines and three lakh rupees for Category 'B' mines from existing three and two lakh rupees, respectively.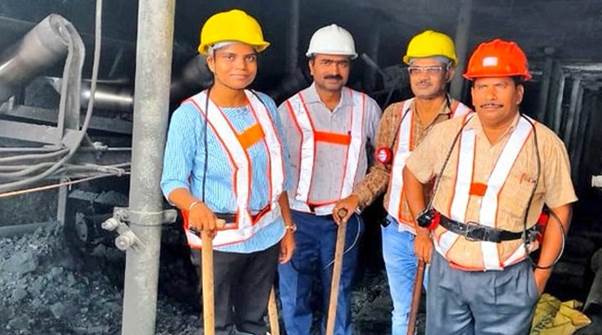 In addition to the above amendments, the Ministry has notified rescission of two rules, namely, Minerals (Transfer of Mining Leases Granted Otherwise than through Auction for Captive Purpose) Rules, 2016 and Mineral (Mining by Government Company), Rules, 2015. These rules had become obsolete in view of the above amendment in the MMDR Act and the MCR, 2016.
Exploration Initiatives

Geological Survey of India (GSI)
GSI has completed 8,577 sq. km Specialized Thematic Mapping (on 1:25,000 scale) out of 23000 sq. km target during Annual Programme 2021-22 till the end of November 2021.
GSI has completed 77,395.1 sq. km National Geochemical Mapping (on 1:50,000 scale) out of 240,000 sq. km target during Annual Programme 2021-22 till the end of November 2021.
GSI has completed 35,220 sq. km National Geophysical Mapping (on 1:50,000 scale) out of 1,00,000 sq. km target during Annual Programme 2021-22 till the end of November 2021.
GSI has completed preliminary marine mineral investigation for 3485 sq. km in Exclusive Economic Zone (EEZ) out of 4,000 sq. km target during Annual Programme 2021-22 till the end of November 2021.
GSI has been engaged in 6 programmes of National Landslide Susceptibility Mapping (NLSM on 1: 50,000 scale) during 2021-22. GSI has covered 18,640 sq. km by Landslide Susceptibility Mapping out of 35,147 sq. km target during Annual Programme 2021-22 till the end of November 2021.
As per the dissemination policy 2019 of GSI, all reports of mineral exploration, baseline data generation and fundamental geosciences are made available to all stakeholders through GSI portal.
GSI has taken up about 250 mineral exploration projects during 2021-22.
GSI has handed over 43 (G3/G2) reports to the State Government in 2021. Of these, 14 blocks are of limestone, 4 blocks are of base metal, 4 blocks of bauxite, 3 blocks of gluconate, 6 blocks of manganese, 6 blocks of iron ore and one each of diamond, float iron ore, flux grade dunite (MgO), magnetite, PGE and graphite & vanadium.
The state of Odisha has the largest contribution with 11 blocks followed by Rajasthan (6 blocks) and Jharkhand (6 blocks). The other contributing states are Madhya Pradesh- 4 blocks, Meghalaya- 3 blocks, Chhattisgarh- 3 blocks, Bihar- 3 blocks, Gujarat- 2 blocks, Tamil Nadu 2 blocks. Andhra Pradesh, Assam and Karnataka have contributed one block each.
GSI has also handed over 100 potential G4 stage blocks in phase I for auction as Composite Licence to the State Governments in the month of September, 2021 and 52 potential G4 stage blocks in phase II in the month of November, 2021.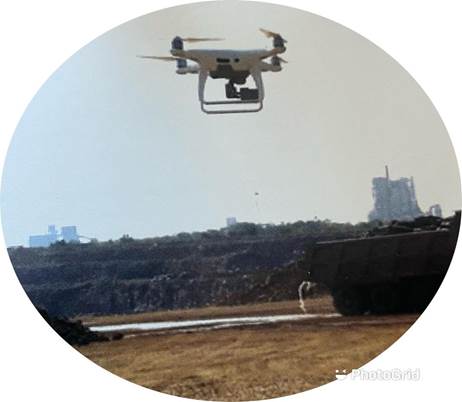 (b) Mineral Exploration Corporation Limited (MECL)
During the year 2021 (Till Nov-21), MECL has submitted 39 nos. of Geological Reports of different minerals commodities e.g. Coal, Lignite, Copper, Limestone, Iron ore, Manganese, Magnesite etc. and added 10,414.36 million tonnes of resources to National Mineral Inventory out of which 17 Geological Reports have been submitted to NMET.
MoU has been signed with Odisha Mineral Exploration Corporation Limited (OMECL), Bhubaneshwar for carrying out detailed exploration and allied works in the state of Odisha.
MoU signed with Department of Mines & Geology (DMG), Rajasthan and Rajashtan State Mines and Minerals Limited (RSMML) for taking up feasibility study for solution mining of potash and pilot plant construction in Rajasthan.
MECL signed MoU with Central Mine Planning and Design Institute (CMPDIL), Ranchi for detailed Energy & Non-Coal exploration in CMPDIL blocks.
MECL signed MoU with Directorate of Mines & Geology (DGM), Goa to expedite assessment of mineral resources and take-up exploration of mineral acreage for carrying out mineral block for its auction.
MoU signed with Directorate of Geology and Mining (DGM), Madhya Pradesh and Madhya Pradesh State Mining Corporation Limited (MPSMCL) for carrying out exploration and allied works for Mineral Acreages in the state of Madhya Pradesh.
Under modernization program, MECL has taken steps on advent of Technological Innovations and adoption of advanced software and equipment etc. such as DATAMINE Studio-RM, Geovia Minex & Geo SURPAC (Dassault System, France), Arc GIS, ERDAS IMAGINE, Slimhole Geophysical logging system, Core scanner, XRF, ICP MS, ICP OES etc
Under strategic diversification program, to increase sustainability and profitability MECL is diversifying its activities in both areas viz. business level and corporate level diversification. MECL has been engaged as Program Manager for carrying out various activities at BGML including appointment of Consultant for its techno-commercial feasibility studies and future action plan of BGML. In addition, MECL has been engaged by Government of Rajasthan as a Program Manager to carry out feasibility study for solution mining of the Potash. Further MECL is also providing consultancy to State Government for technical support to study the feasibility of mineral block for its auction purpose. MECL has deputed nodal officers for various states and posted its geological officials in the state of Madhya Pradesh, Jharkhand, Rajasthan, Karnataka and Goa.
MECL is also providing geochemical analysis services as a referee agency to various State Governments, CPSEs and other agencies.
Union Minister of Coal, Mines and Parliamentary Affairs, Shri Pralhad Joshi inaugurated the 5th National Conclave on Mines and Minerals-2021 in November and felicitated 149 mines obtaining five-star rating under star rating of Mines for the performance year 2017-18 to 2019-20. The Minister also handed over 52 potential mineral blocks carved out of G4 stage mineral investigations to the State Governments. This was in addition to hundred mineral blocks handed over to different state governments earlier in September this year.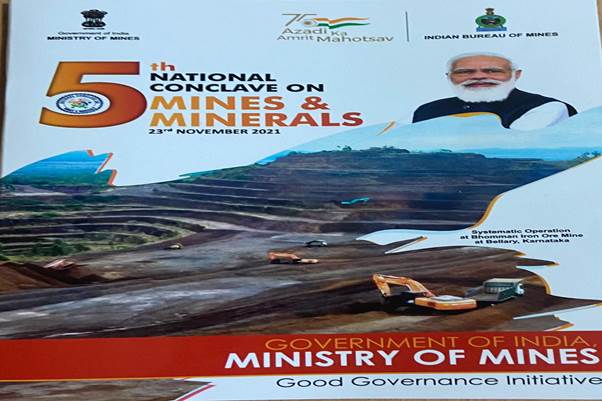 A technical session with panel discussions was conducted during the Mines and Minerals Conclave to present and discuss about the recent amendments in Mining Laws for easing the process of auctions of Mineral Blocks and mineral exploration. An online portal of Accreditation Scheme developed by Ministry of Mines through QCI-NABET for Exploration Agencies in Mineral Sector has also been launched during the Conclave.
Indian Bureau of Mines (IBM)
Besides IBM's core charter of functions, i.e. carrying out various field inspections, Ore Dressing investigations, some of the major achievements are;
.Union Minister of Coal, Mines and Parliamentary Affairs, inaugurated 5th National Conclave on Mines and Minerals-2021 on 23.11.2021 and felicitated 149 mines obtaining five star rating under star rating of Mines for the performance year 2017-18 to 2019-20.
Mining Surveillance System (MSS) is a satellite-based monitoring system which aims to establish a regime of responsive mineral administration by curbing instances of illegal mining activity through automatic remote sensing detection technology. Using the Mining Surveillance System, 52 major mineral triggers have been detected across the country in second phase. Out of which 45 have been verified by the State Governments and in 5 cases unauthorized mining activities have been identified. Similarly, in respect of minor minerals, 130 triggers have been generated, out of which 104 have been verified and in 9 cases unauthorized mining activities have been identified. The training programmes to State Government officers for its adoption of the MSS for minor minerals have also been done. In the third phase in 2020-21, out of the 119 triggers generated for major minerals across the States, 62 triggers have so far been verified by the State Governments and 9 cases are observed as unauthorized Mining after field verification by respective State Governments.
Total 164 Officers from various States participated in the training of Mining Surveillance System.
Under Mining Tenement System, Modules of MTS Project viz. PMKKKY, Registration and Daily Returns were already launched. Daily Return and Monthly Return are live to view and submit the returns.
During the current year, Average Sale Price (ASP) for Minerals up to September, 2021 and of Metals up to October, 2021 have been hosted on IBM website.
IBM has brought out important publications like Indian Minerals Year Book 2019 (vol. I to III), Half Yearly Bulletin on mineral Information for the period Oct.19 to Mar.20 & April 2020 to September, 2020 issues, Statistical Profiles of Minerals for the Year 2018-19 issue, Indian Mineral Industry at a Glance 2016-17 and 2017-18 issues, Bulletin on Mining Lease and Prospecting Licenses 2019 and Monthly Statistics of Mineral Production (MSMP) up to March 2020 issue to disseminate the technical data for interest of all stakeholders.
As part of the capacity building of human resources, conducted 8 online training courses for IBM employees through VC-NIC wherein a total 292 IBM officials participated.
During 2020-21, the IBM offices observed Swachhata Pakhwada during 16th-30th November 2020 in office premises as well in mining site areas, nearby villages and schools.
Initiatives Towards Self- Reliance in Strategic Minerals.
Khanij Bidesh India Limited (KABIL)
Under the aegis of Ministry of Mines, a Joint Venture company namely the Khanij Bidesh India Ltd. (KABIL) of NALCO, HCL & MECL has been established. With the objective to ensure mineral security of the country, KABIL is mandated to identify & acquire overseas mineral assets of critical & strategic minerals so as to ensure supply side assurance of energy minerals – primarily the critical & strategic minerals such as Lithium, Cobalt & others. Based on commissioned study and selection criteria various countries have been shortlisted for exploring the mineral asset acquisition abroad.
Engagement of KABIL is underway with select source countries such as Australia, Argentina, Bolivia and Chile etc. which are endowed with the cited critical & strategic minerals. The primary interface has been the respective Embassies & Missions of India in those countries for sharing of information with respect to prospective mineral acreages primarily with state owned organizations for taking up due diligence and investment decisions.
It is foreseen that securing supply side assurance of the critical & strategic minerals such as Lithium, Cobalt etc. to start with will offer the intended impetus to the "Atma Nirbhar Bharat" initiative of Government of India and will cater to several sectors such as e-mobility, renewable energy, medicine, aerospace, aviation, etc.
National Aluminium Company Limited (NALCO)
Performance Highlights for FY 2020-21:
Despite the adverse conditions prevailing due to Covid pandemic, NALCO's Net Profit for FY 2020-21 has jumped by 840% to Rs.1299.53 crore compared to Rs.138 crore in FY2019-20.
Achieved highest ever Bauxite production (73.65 Lakh tonne) since inception in FY 2020-21.
Highest ever export metal sale of 1.92 lakh tonne achieved surpassing the previous best of 1.47 lakh tonne achieved decade back in 2009-10.
Mining Lease deed of Utkal-D Coal block executed in March, 2021.
Total procurement through GeM portal is Rs. 343.19 Crores in FY 2020-21, against Rs. 8.42 crores achieved in 2019-20.
Against mandated procurement target of 25% from MSEs, NALCO achieved 30.42% of total procurement in FY 2020-21.

Performance Highlights for FY 2021-22 (Till Nov'2021)
The Company achieved Net Profit of Rs.1, 095 Crore during H1 FY 2021-22 against Rs.124 Crore achieved in corresponding period of previous year.
Highest ever Aluminium cast metal production of 2,26,029 MT since inception surpassing the previous H1 highest of 2,21,208 MT in the FY 2010-11.
Lean Slurry ash disposal system of CPP to mines void has been commissioned in July'2021. This facilitates environment friendly ash disposal.
NALCO's Panchpatmali Bauxite Mines was awarded 5 Star Rating by Ministry of Mines for sustainable Mining in Nov'2021.
Alumina Refinery bagged the CII EXIM Bank Business Excellence Platinum award & Panchpatmali Bauxite Mines received the award in Gold plus category at CII National Quality Summit.
NALCO has been granted mining lease of Utkal-E coal block over an area of 523.73 Ha by the Department of Steel & Mines, Government of Odisha on 12.04.2021.
NALCO has bagged the Non-Ferrous Best Performance Award 2020-21 instituted by the Indian Institute of Metals (IIM), under the large scale manufacturing unit category in Nov'21.
NALCO's Panchpatmali Bauxite Mine has been awarded the prestigious Pollution Control Excellence Award 2021 by the State Pollution Control Board, Odisha, for effective pollution control measures and sound environment management practices.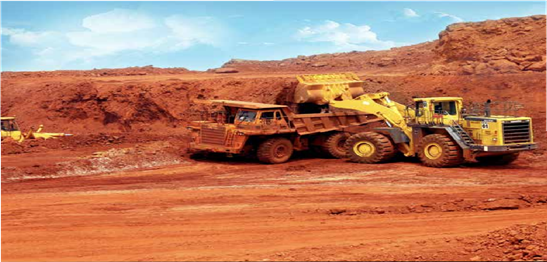 Major Activities taken up by the Company to help in fighting the Covid-19 Pandemic:
NALCO contributed Rs. 7.6 crore (including one-day salary of employees amounting to Rs.2.6 crore) to PM CARES Fund. The Company also contributed one-day salary of employees amounting to Rs.2.6 crore to CM's Relief Fund, Odisha. Total contribution toward COVID-19 relief fund is Rs. 10.2 crore.
Funded 200 bedded exclusive COVID-19 hospital at Nabarangpur and 70 bedded SLNM College & Hospital at Koraput, Odisha.
NALCO in convergence with Govt of Odisha, funded 150 Bedded District Covid Hospital at Angul District, Odisha.
Set up two exclusive COVID Care Centres (50 bed each), one each at Damanjodi and Angul and one COVID Care Centre at Bhubaneswar (20 bed).
25,70,000 capacity (dose) Covid vaccine Refrigerated Truck, two Ventilator Ambulance and Digital x-ray machine donated to Govt. of Odisha.

NALCO's contribution to the commemoration of Azadi Ka Amrit Mahotsav.
NALCO to support and build 300 smart e-class rooms in Odisha as an academic developmental initiative.
NALCO, in association with NALCO Foundation reached out to an Old Age Home at Bhubaneswar and donated electronic utility items like refrigerator & mixer grinder, monthly ration, masks and sanitizers.
NALCO is celebrating the Azadi Ka Amrit Mahotsav by organizing a number of activities among the school children.
Hindustan Copper Limited (HCL)
Physical Performance Highlights for FY 2020-21:
Total copper metal sales of the company were 32,997 tonne in 2020-21.
Financial Performance Highlights for FY 2020-21:
During 2020-21, the turnover of the Company was Rs.1760.84 crore as against Rs. 803.17 crore during FY 2019-20 registering an increase of 119%. The Profit/(Loss) After Tax from continuing & discontinuing operation during FY 2020-21 was Rs 109.98 crore.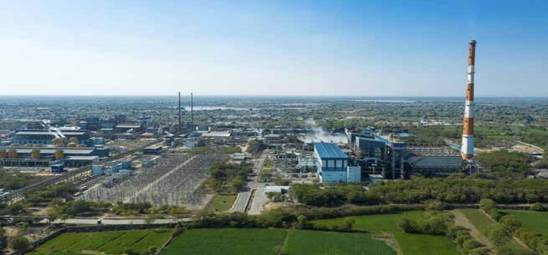 Highlights of other Achievements:
HCL being the first non-banking PSU to raise capital of Rs.500 Crore from the market for the ongoing capital expenditure project through QIP (qualified Institutional Placement) route in April 2021.
HCL facilitated Govt. of India to disinvest GoI shareholding by around 6.62% through OFS (Offer For Sale) route in Sept'2021.
HCL procured 41.12% of total procurement from MSME vendors in FY 2020-21 against the mandatory target of 25%.
Power Purchase agreement (PPA) has been signed with party for installation of 4.5 MWp solar plant at MCP Unit.
The Malanjkhand underground mining project has achieved important milestones i.e interconnection of north and south mines at 240 mRL & 295 mRL. This has created readiness for taking out ore production through decline from underground mines.
HCL has signed a long-term sale agreement with a domestic primary copper producer for sale of around 60% of its total quantity of annual copper concentrate production.
Awards & Accolades:
DGMS, Ministry of Labour & Employment, GoI, intimated HCL about selection of National Safety Award (Mines) – 2017(Winner) & 2018 (Runner both LIFRM-type-6 category) for Kolihan Mine,
National Safety Award (Mines) 2018 (Winner-LIFRM-type-6 category) and 2019 (Runner-LAFP -type-6 category) for Khetri Mine,
National Safety Award (Mines)- 2020 (Runner) (LAFP- type -4 category) for Malanjkhand mine,
Khetri mine of HCL was adjudged as five star rated mine for the year 2017-18 and the award has been given by Hon'ble Minister of Mines on 23.11.2021 in the 5th National conclave on Mines & minerals at New Delhi.
Research & Development (R&D) Initiatives
Jawaharlal Nehru Aluminium Research Development & Design Centre (JNARDDC)
During 2021 JNARDDC was granted one patent for novel R&D process.
Patent no. 340231 dated 02.07.2020 (Inventor – Dr Md Najar PA) for "Development of process for selective in-situ dissolution of alumina & silica bearing mineral phases in bauxite at room temperature for geo–analytical application". The selective and self-sustained dissolution of alumina (Al2O3) and silica (SiO2) bearing mineral phases in bauxite such as gibbsite and kaolinite at room temperature enable rapid determination of the mineral constituents both at the exploration site as well laboratory with comparable accuracy. The distinguished advantage of the process is its easy flexibility and portability to remote mining sites for quick assessment of bauxite and laterite samples and need of minimum infrastructural support.
JNARDDC successfully upgraded its NABL accreditation from ISO/IEC 17025:2005 to ISO/IEC 17025:2017 with inclusion of new scope covering all parameters of chemical testing of chromite ore which is expected to enhance the business opportunities.
Setting up of Coal Characterization and Research Laboratory (CCRL) in record time (to test coke/coal samples for various parameters through proximate analysis – fixed carbon, moisture, volatile matter and ash & gross calorific value by prescribed IS/ASTM methods), acquiring NABL accreditation for CCRL (ISO/IEC 17025:2017) and substantial inflow of coal referee samples for analysis which will provide major boost to the earnings of the Centre in the times to come.
Developing expertise for providing end to end technology solutions (optimized die design, fabricated dies with process parameters by process integration) for small and medium enterprises for manufacturing of critical extrusion profiles. Currently, critical extrusion profiles are developed based on implicit knowledge of shop floor personnel gained on basis of hit and run trials which are not only costly but also time consuming. In order to effectively utilize the extrusion facilities, Centre is focusing on new end user applications such as profiles used in automobiles, building and construction, aerospace so that prototype can be made and demonstrated to end user industries to promote consumption.
Bureau of Energy Efficiency (BEE), Ministry of Power renewed the nomination of JNARDDC as a sector expert for the aluminium sector under the PAT (Perform, Achieve & Trade) Scheme in National Mission for Enhanced Energy Efficiency (NMEEE) under Climate Change Project
Nomination and authorization of JNARDDC by Ministry of Mines (MoM), Govt of India to carry out the functions earmarked for Metal Recycling Authority as stipulated in the "National Non-Ferrous Metal Scrap Recycling Framework 2020" (excluding statutory functions) till a regular authority is notified. JNARDDC will work under the supervision of Ministry of Mines and closely co-ordinate with MoEF & CC, CPCB/SPCB's, Dept. of Consumer Affairs, Bureau of Indian Standards and other Stakeholders for performing various activities related to Non-Ferrous Metal (namely Al, Cu, Zn and Pb) Recycling which ensures proper guidelines for scrap handling, processing, quality, certification and environmental norms etc. A platform will be devised to bring all the stakeholders including recyclers, OEMs, scrap traders, generators etc. for reporting or registration in an organized manner under one umbrella. The Centre has initiated the activities to ensure that the desired frame work is in place and implemented.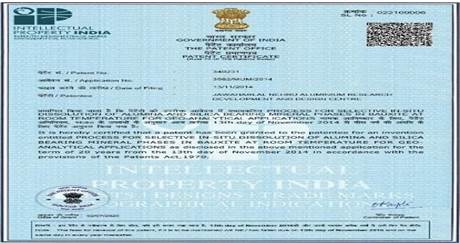 National Institute of Rock Mechanics (NIRM)
NIRM Established as an R&D support and expertise to Mining Sector. NIRM deals with field and laboratory investigations, basic and applied research and solving complex problems in almost entire spectrum of Rock Mechanics and Rock Engineering related to Mining and Civil engineering activities.
During the period affected by Pandemic due to covid-19 NIRM had taken all efforts to complete its scientific investigations and the scientific initiatives were involved in major mines (coal and metal). NIRM through advanced geological, in-situ stress measurements, numerical modelling, excavation design, engineering geophysical investigations, advanced monitoring of underground structures and stability of excavations have provided tailor made scientific services that resulted in significant advantages in terms of time, money, safety and productivity in the civil and mining industries.
Engineering geophysical investigations in the old, abandoned mines areas (8 locations) in the state of Madhya Pradesh have led to mapping the old remnant huge cavity pockets that were hazardous to surface buildings including residential colonies. This prevented untoward safety incidents and environmental hazards associated with such abandoned mines.
The in-situ stress measurements of NIRM have vital for design and excavation of underground caverns of defence sector in Visakhapatnam. NIRM is continuing to provide its expertise for the classification and identification of suitable rock for armour rocks for ports and naval base near Visakhapatnam.
The 3D numerical model analysis of underground excavations in Arun 3 HEP, Nepal and Punatsangchu HEP in Bhutan identified the zones of rockmass for critical displacements and behavioural trend for more efficient design for long term stability of the underground structures.
For the new and upcoming units of Kudankulam nuclear power plant (KKNPP), Tamil Nadu (2 x 1000 MW) near operating units 1 and 2, NIRM technical guidance led to completion of rock excavation and about 0.14 lakhs cubic meter of hard rock was excavated safely.
Key scientific initiatives for various upcoming hydel and mining projects within the country and abroad are taken up to continue the scientific contribution for civil, mining and infrastructure sectors.
NIRM made various scientific publications in national and international journals. A large participation of NIRM scientists is scheduled for the international conference at Malaysia – on Geotechnical challenges in Mining, Tunneling & Underground structures.