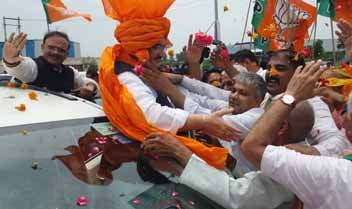 INVC NEWS
New Delhi -:  In view of the 2024 Lok Sabha elections, BJP President JP Nadda on Friday started the training program of 'Kamal Mitra' volunteer women workers. Through this programme, training will be given to 200 office bearers and workers of Mahila Morcha in every Lok Sabha constituency across the country.
The special thing is that before the Lok Sabha elections, BJP has planned to give training to about 1 lakh Kamal Mitra women workers across the country. The women who will take training through this Kamal Mitra program will also have to pass a test. Only after this they will be given "Kamal Mitra Certificate" which will become a part of the team working in the Lok Sabha constituencies.
BJP President JP Nadda urged the office-bearers of the Mahila Morcha in the program that special vigilance needs to be taken to ensure that the presence of workers or volunteers taking training is correct. Training will be given in local language The important thing is that to make it easier for all these "Kamal Mitra" workers to work in their respective states, forms will be filled in different regional languages of the country and training will be given in their local languages.
BJP has been constantly accused by regional and national parties of promoting Hindi in the southern states, keeping this in mind, BJP has started promoting Telugu, Kannada, Tamil, Malayalam in the south, Odia in the east and Bengali, Marathi, Gujarati languages. A plan has been made to provide training through an expert team. Through Kamal Mitra, a plan has been made to tell people about 15 public welfare schemes of the central government on priority. In this, it has been planned to take subjects like Ujjwala Yojana, Sukanya Samridhi, Pradhan Mantri Awas Yojana and Matritva Bandana Yojana among the urban and rural women.
A team of doctors, engineers, professors, lawyers, IT professionals and professionals has been specially formed by BJP Mahila Morcha, in which special attention has been given that this team of local experts will make the work of Modi government known to the lower level through local languages.
Bring it to the public From May 20, the program of training volunteers under the Kamal Mitra Yojana will be started by the office bearers and workers of Mahila Morcha across the country and about 1 lakh volunteers will be trained in all Lok Sabha constituencies across the country. A beginning will be made to take the work to the general public. The list of all these Kamal Mitras, along with their phone numbers and details, will also be uploaded on the PM's Namo app.