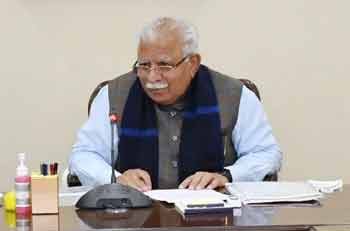 INVC NEWS
Haryana,
Haryana Chief Minister Manohar Lal while strongly condemning the Punjab government for its inability to ensure the security of Prime Minister, Sh. Narendra Modi after his convoy was stranded on a flyover in Punjab for 15-20 minutes said that it is really unfortunate to see that the Prime Minister of one of the biggest democratic nations had to face such a grave security breach.
"The conspiracy planned by Punjab Government would not be accepted at any cost and anyone believing in the democratic system will never forgive this unconstitutional behaviour of Congress", said Sh. Manohar Lal while addressing a press conference here today.
Education Minister, Sh. Kanwar Pal and Additional Principal Secretary to Chief Minister, Dr. Amit Agrawal also remained present.
Holding Punjab Chief Minister, Sh. Charanjit Singh Channi led government responsible for this major security lapse, the Chief Minister said, "Prime Minister is not a common man. Among all the Prime Ministers, India has had, Sh. Narendra Modi is the most popular one as the kind of bold decisions such as abrogation of Article 370, Construction of Ram Mandir, CAA, etc taken by him were never even thought by anyone else."
He said "Today we have also met the Haryana Governor to hand over a memorandum to dismiss the Punjab government and impose President's rule in the state. This act of Congress has been strongly criticized by every political party. Prime Minister Modi will again be visiting Punjab and I am sure that this time Congress would not repeat this mistake again, "added Sh. Manohar Lal.
Meanwhile, earlier the Chief Minister also visited Mata Mansa Devi Temple in Panchkula to offer prayers and performed 'Mahamritunjay Yagya' for the well-being of Prime Minister Narendra Modi.