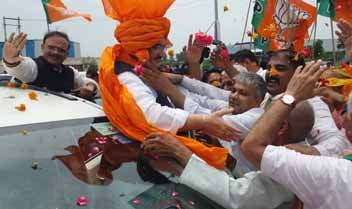 BJP is trying to get the support of the Church and the Christian lobby to increase the base
In view of the Lok Sabha elections of 2024, the role of the five states of South India – Karnataka, Kerala, Andhra Pradesh, Tamil Nadu and Telangana is going to be very important. In fact, in total, 129 MPs come from these five states winning the Lok Sabha and it is believed that in 2024, these 129 MPs i.e. these five states are going to play an important role in the formation of the government.
In the current political scenario, it has become an interesting situation that Congress is also looking towards South India to strengthen itself, while BJP also has high hopes from South India this time. The leaders traveling across the country to form a new front against the BJP also have high hopes from South India.
Rahul Gandhi is currently a Lok Sabha MP from Kerala, where the Left Front is in power, while Congress has tried to play a big bet by deciding to make Mallikarjun Kharge, who belongs to Karnataka, as the national president. Let us tell you that at present there is a BJP government in Karnataka. There is a DMK government in Tamil Nadu which is with the Congress. TRS is in power in Telangana and Chief Minister K. Chandrashekhar Rao is engaged in a campaign to form a front against the BJP by roaming around the country.
To counter this strategy of Congress and regional parties, BJP is already working continuously by making counter strategy. In fact, except Karnataka, the BJP is not very strong in the other four states at present and hence the party is paying special attention to these states.
BJP national president JP Nadda recently visited Telangana, Tamil Nadu and Kerala to discuss the strategy to strengthen the party organization up to the booth level. Top BJP leaders are constantly visiting the states of South India and trying to create an atmosphere in favor of the party. In view of the Lok Sabha elections, the party has also started the process of searching for candidates.
On the one hand, where such popular faces belonging to these states are being met who belong to cinema, sports or other fields but are not in politics yet, on the other hand, they are getting angry in their respective parties due to any reason. The round of talks with the remaining leaders is also going on.
In Kerala, work has started on the strategy to surround Rahul Gandhi in his own parliamentary constituency. The party is also trying to garner the support of the Church and the Christian lobby to increase its support base in Kerala. PLC/GT